Manchester, New Hampshire (USA) – February 1, 2000 – RCD Components Inc., a leading manufacturer of resistors, coils and delay lines has announced the release of a specialty surge-tolerant resistor which safely fuses when exposed to extended overloads, making it ideal for the safeguarding of electronic circuitry. It is especially suited for telecom line cards and similar applications, particularly line feed circuits, DDS (Digital Data Phone Service) Interchange circuitry, and recently popular HDSL technology.
RCD's recent acquisition of a fuse resistor manufacturing line from Industrial Midwec, coupled with RCD's 27 years of surge resistor experience, enabled the development of the new resistor family, designated LF2 (Line Feed 2- watt resistor). The LF2 complies with UL497 and Bellcore TR1089 circuit proection requirements, and enables significant cost and PCB real-estate savings due to the use of a single component instead of two separate components (resistor and fuse).
The unique design of the LF series enables it to withstand large overloads, such as lightning surges, in-rush currents, and capacitor discharges, but will open safely when subjected to fault conditions, such as telephone line power cross overloads.
The LF2 series is comprised of a surge-tolerant wirewound resistor and a thermal fuse, packaged in a flameproof ceramic case. Dimensions are 1.045" long x .265" wide x .45" high, and are available in a resistance values from 1W to 1KW, 1% to 5% tolerance. Samples and production quantities of RCD's LF2 are available now, with leadtimes of six to eight weeks for larger orders. Typical pricing is less than $1.00 each at the 1000 piece level. Product is presently being produced at RCD's New Hampshire facility, and is slated to begin production at RCD's Caribbean facility in mid 2000. The LF2 series is also available through RCD's unique SWIFT™program (Ship WithIn Fifty Two hours) which enables the immediate manufacture of nearly any standard or custom resistor product or network at a modest price premium.
For samples or detailed product information, contact RCD Components Inc., at 520 East Industrial Park Drive, Manchester, NH USA 03109. Phone: (603)669-0054, Toll Free Order Hot Line: (877) RCD-COMP, Fax: (603) 669-5455. The specifications for this product may also be accessed at www.RCDcomponents.com or by dialing RCD's "Fax on Demand" service at (603) 669-0054 ext. 602.
Acknowledged throughout the electronic components industry for its service and engineering excellence, RCD Components Inc. is one of the world's leading manufacturers of Resistors, Coils, and Delay lines. RCD was founded in 1973 and is headquartered in Manchester New Hampshire, USA, with plants in Europe, the Caribbean, and the Far East. RCD continues to be one of the fastest growing passive component manufacturers due to its ABZED™ ABsolute ZEro Defect guarantee, fast turnaround on non-standard products, and inventory in excess of 2 billion components.
For more information regarding pricing and delivery or for assistance with customer-specific designs please contact RCD at +1-603-669-0054 or sales@rcdcomponents.com.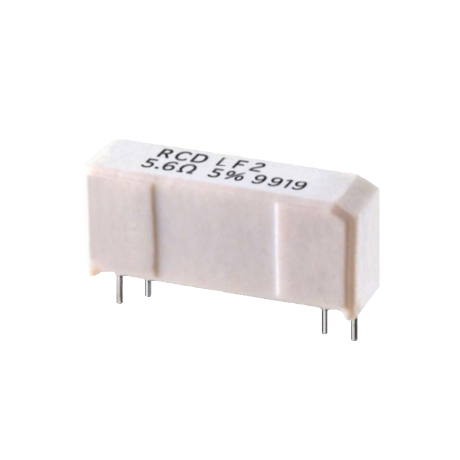 Acknowledged worldwide for service and engineering excellence, RCD Components Inc. is a leading global manufacturer of Resistors, Capacitors, Coils, and Delay lines. RCD, founded in 1973, continues to be one of the fastest growing passive component manufacturers due to its ABZED™ ABsolute ZEro Defect program, wide range of standard and customized products, and short leadtimes resulting from its billion-piece inventory and unique SWIFT™ service for delivery of non-stock items in as little as 3 days. RCD is a key supplier of passive components to the commercial, military, and aerospace industries and is a winner of the BBB's Torch Award for Marketplace Ethics in the Large Company category and also selected as New Hampshire's Business of the Year (Manufacturing/Technology). Additional information about RCD can be found at www.RCDcomponents.com.