Manchester, New Hampshire (USA) – RCD Components, a leading manufacturer of resistors, capacitors, coils, and delay lines has announced the release of a 4-terminal current sense resistor. RCD's Series SF feature the world's first 4-terminal 'Kelvin' design in a surface mount resistor package. This unique design enables the most precise low ohmic resistance and current sensing capabilities throughout the industry. A precision element is molded inside a durable high temperature case for greatly reduced package size and excellent environmental protection. Series SF utilizes similar technology as our popular Series LVF (leaded version) and performance levels well above industry standard. It is especially suited for all types of current sensing applications including test instrumentation, power supplies, and power amplifiers.
The innovative design of the SF Series provides the industry with a device formally offered in much larger (leaded) package sizes, requiring much more board space. The added advantage of "Kelvin" design greatly reduces the effects of inaccurate lead-to-terminal resistance, allowing greater accuracy for current sensing.
The SF Series are available in two package sizes, including a 1-watt, 10A version (SF1), and a 2-watt, 15A version (SFG2). Dimensions are 0.35" long x 0.275" wide x 0.125" high (SF1), and 0.59″ long x 0.25″ wide x 0.245″ high (SFG2), and available in a wide resistance range from .001W to 5KW, 0.01% to 10% tolerance. Samples and production quantities of RCD's SF Series are available now, with leadtimes of six to eight weeks for larger orders. Typical pricing is less than $1.00 each at the 1000 piece level. Product is presently being produced at RCD's New Hampshire facility, and is slated to begin production at RCD's Caribbean facility in mid 2002. The SF Series is also available through RCD's unique SWIFT™program (Ship WithIn Fifty Two hours) which allows the immediate manufacture of nearly any standard or custom resistor product or network at a modest price premium.
For samples or detailed product information, contact RCD Components Inc., at 520 East Industrial Park Drive, Manchester, NH USA 03109. Phone: (603) 669-0054, Toll Free Order Hot Line: (877) RCD-COMP, Fax: (603) 669-5455. The specifications for this product may also be accessed at www.RCDcomponents.com or by dialing RCD's "Fax on Demand" service at (603) 669-0054 ext. 602.
For more information regarding pricing and delivery or for assistance with customer-specific designs please contact RCD at +1-603-669-0054 or sales@rcdcomponents.com.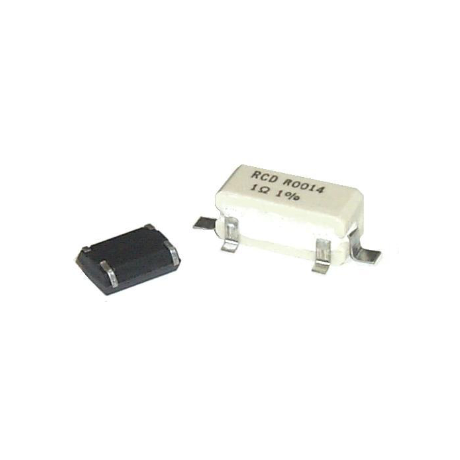 Acknowledged worldwide for service and engineering excellence, RCD Components Inc. is a leading global manufacturer of Resistors, Capacitors, Coils, and Delay lines. RCD, founded in 1973, continues to be one of the fastest growing passive component manufacturers due to its ABZED™ ABsolute ZEro Defect program, wide range of standard and customized products, and short leadtimes resulting from its billion-piece inventory and unique SWIFT™ service for delivery of non-stock items in as little as 3 days. RCD is a key supplier of passive components to the commercial, military, and aerospace industries and is a winner of the BBB's Torch Award for Marketplace Ethics in the Large Company category and also selected as New Hampshire's Business of the Year (Manufacturing/Technology). Additional information about RCD can be found at www.RCDcomponents.com.